NEAR EASTERN ARCHAEOLOGY (NEA)
Archaeological discoveries continually enrich our understanding of the people, culture, history, and literature of the Middle East. The heritage of its peoples – from urban civilization to the Bible – both inspires and fascinates. Near Eastern Archaeology brings to life the ancient world from Mesopotamia to the Mediterranean with vibrant images and authoritative analyses. NEA (ISSN 1094-2076) is published four times each year (quarterly): March, June, September, and December.
All manuscripts submitted to Near Eastern Archaeology are subject to a peer review by independent scholars. All articles are sent to two external specialists in the field who are asked to evaluate the manuscripts for their academic quality; these assessment include comments on the contribution and a recommendation to the editor (accept / minor revision required / major revision required / reject). The time assigned for the review is normally 30 days; the peer-review process and (if required) the resubmission of revised manuscripts is handled through NEA's Editorial Management system. If revisions are required, the system mandates authors to state how the reviewers' points of critique have been addressed. NEA's Editorial Board assists the editor in the peer-review process, e.g., through the recommendation of external reviewers, acceptance decisions, and the revision of manuscripts.
Current Issue:
Near Eastern Archaeology, 80.3 (September 2017):
This issue of NEA includes articles such as: From the Bible to the Levant and Beyond, by William G. Dever; Forgotten Fortress: Returning to Uronarti, by Laurel Bestock; Dendara at Its Origins: New Evidence for a Pre- and Early Dynastic Settlement Site in Upper Egypt, by Gregory Marouard; and more. Click here to view the table of contents.
Past Issue: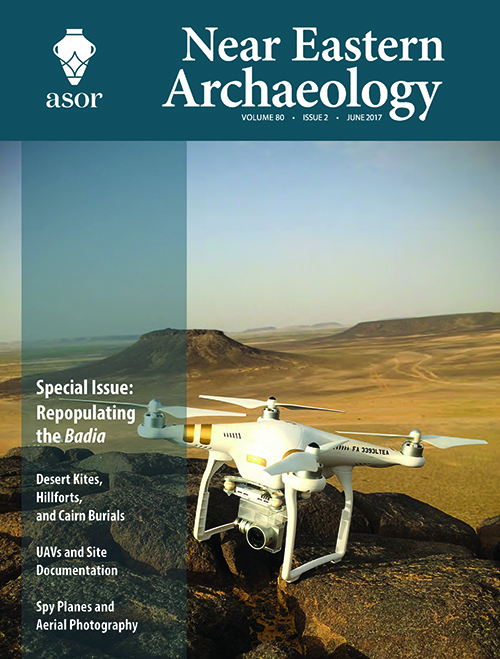 Near Eastern Archaeology, 80.2 (June 2017):
This issue of NEA includes articles such as: Exploring the Badia; Historical Imagery of Desert Kites in Eastern Jordan; The Badia from Above: Successes, Limitations, and Potential;  The Late Neolithic Presence in the Black Desert; Nothing but Cold Ashes? The Cairn Burials of Jebel Qurma, Northeastern Jordan; and more. Click here to view the table of contents.
View NEA 78.3 (September 2015) Special Issue on The Cultural Heritage Crisis in the Middle East for free on JSTOR

Back Issues
Style Guidelines for Contributors
Advertise in NEA
Author Agreement
Editors
Editor:
Thomas Schneider (University of British Columbia)
Third Term ends on December 31, 2020
Prepress Provider:
Lockwood Press
Editorial Board:
Class of 2017
Beth Alpert Nakhai (University of Arizona)
Marica Cassis (Memorial University)
Michael Harrower (Johns Hopkins University)
Stephen Russell (John Jay College of Criminal Justice, CUNY)
Class of 2018
Emily Hammer (University of Chicago)
Richard S. Hess (Denver Seminary)
Jason Ur (Harvard University)
Tasha Vorderstrasse (University of Chicago)

Class of 2019
Ömür Harmansah (University of Illinois at Chicago)
Ann Marie Knoblauch (Virginia Tech)
K. Lawson Younger (Trinity International University)
Miriam Müller (Yale University)
Subscribe
Individual Subscription Price (print or online): $40.00
For non-US print subscriptions, add $32.00
Individuals may subscribe to NEA via the Online Store or print and mail a Subscription Form.
Institutional Subscription Price (print): $191.00
For non-US print subscriptions, add $32.00
Please click here or email participation@jstor.org to subscribe to NEA in print or online through JSTOR, or email ASOR Subscriptions to purchase a print subscription.
For 2017 institutional journal prices, click here.
For 2018 institutional journal prices, click here.
Contact
Please send submissions and editorial correspondence to:
Thomas Schneider
Professor of Egyptology and Near Eastern Studies
Department of Classical, Near Eastern and Religious Studies
University of British Columbia
Buchanan C, 1866 Main Mall
Vancouver V6T 1Z1, B.C., Canada
Please send advertising inquiries to:
Inda Omerefendic
P.O. Box 15729
Boston, MA 02215
Tel: 857-277-0417
(Ads for the sale of antiquities will not be accepted.)
Printed by The Sheridan Press, Hanover, PA.